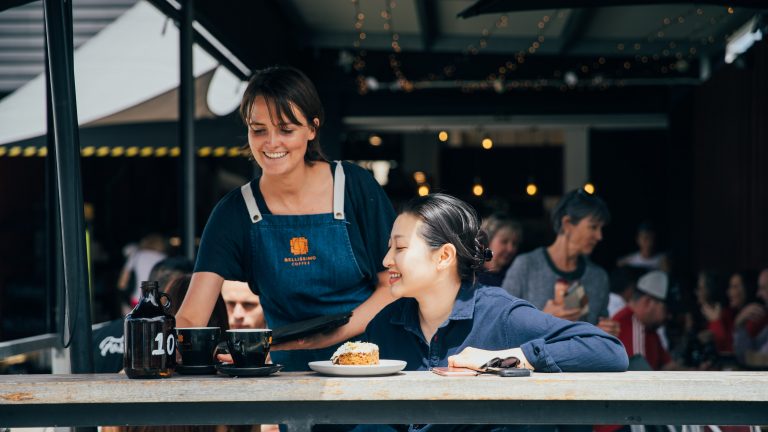 Reopening and Rebuilding after Covid-19
Fiona Smart (Cafe Lab Hospitality Consultants)19 May 20200 Comments
Some incredible creativity and resilience has been shown by the cafe industry over the past weeks, and having now entered the first stages of easing Covid-19 restrictions, those same qualities will continue to be important for cafe owners to survive the next few months of uncertainty.
The initial Covid-19 restrictions presented a mixed bag of scenarios for cafes as many of us were forced to make quick decisions based on limited and at times incongruent information. Some businesses were able to pivot their services, some quickly closed, some stayed open and wished they'd closed, some closed and wished they'd stayed open, as well as every possible scenario in between. Indeed, some cafes have thrived by virtue of their location or their ability to transition their layout and services to takeaway, and those that already had a digital ecosystem including online pre-ordering systems, seamless pick up or delivery services appeared to be at an advantage from the outset.
Three months ago, no one could have predicted that we'd be completely rewiring our businesses, just to stay afloat. Due to the unprecedented nature of our situation, it's fair to anticipate there may be a combination of tensing and easing of restrictions over the coming months, as health officials monitor and adjust in line with the effect each step has on infection numbers in our community.
We see this as reinforcing the need for cafes to be prepared for a number of 'open for business' scenarios, like what we've already faced in terms of limits to dine-in service and restrictions to guest numbers in store at any given time. There may also be value in ongoing development of omni-channel revenue streams that can bolster the sales affected by running on limited seating.
One thing we have learned and appreciate is that our customers still love a warm (albeit socially distanced) 'welcome', and a good cup of coffee. We also noted that for some customers, the ritual of leaving the house to grab a takeaway coffee became a cherished new 'normal' in their socially distanced work-day and because of that we are able to still create great experiences for our customers.
In this radical time of change there has also emerged the opportunity for reflection, consolidation and reinvention and to affect positive change – self assessment, business contingencies, and strategic financial planning can be a road map out of the immediate situation, and forward into a better 2021.
According to Australian Bureau of Statistics (ABS) as many as 76% of all Australian food service businesses have registered or intend to register for JobKeeper. This suggests that although there have been substantial closures of cafe businesses so far, at least in the short term, the greater percentage of cafes may attempt to re-open or sustain their current opening format.
For the immediate future as we begin to reopen our cafes, we envisage three important factors to be at play for cafe owners:
To establish a return to normality for customers by ensuring their health and safety through your business practises and communications
An assessment of profitability and viability regarding in line with limited capacity scenarios, to inform a longer term strategy for the business
Preparation for the impact that unemployment and consumer uncertainty will have on discretionary spending. Sure, we'll see plenty of cups of coffee sold, but will there be enough additional purchases to warrant the additional staff?
A Covid-Safe Workplace
It's everyone's hope that a healthy cafe industry comes out the other side of all of this. Although social restrictions impact all of us, by doing our part and complying with safety guidelines we have an even greater chance of getting on a faster track to more patrons and less restrictions.
Communicating and delivering on our continual efforts around workplace health will build customer loyalty, confidence and appreciation. We've shown our ability to adapt so far and we'll continue to adjust to a new norm and build our businesses back up in accordance.
If you haven't seen this already, the Queensland government has released this COVID Safe reopening checklist for cafes and restaurants, which needs to be complied with,, filled out, signed and displayed at your venue.
Restaurant and Catering Australia (R&CA) has also been advising the government on reopening guidelines, and provide a great resource with their information hub.
R&CA have also developed these best practice guidelines.
We hope you find this information helpful.
* Note: Information from the government is being updated so frequently that we strongly recommend that you stay updated on information about the situation as it becomes available.
Business Assessment
Profit margins and profitability have been a long term stress factor for cafe owners and managers and with unforeseeable pressures ahead, financial oversight however daunting, enables better decision making. This can be a basic self-assessment or a deep dive with the support of a professional like an accountant or bookkeeper. In cafes it's important to know your food and wage cost percentages, and at this time it's worth a review of your outgoings in line with any current changes to expenses like rent and utilities. Your latest profit and loss and balance sheet should have all the numbers you need to see how you are tracking and to establish some important benchmarks. A cash flow projection would also be useful to map out your income and outgoings, and to get line of sight on upcoming large payments and key dates for future changes, such as the end of JobKeeper.
With profit margins so tight, ensure your flexible expenses (like menu items) are costed out correctly to include the cost of packaging and any recent supplier price increases, as this will give you a realistic picture of where your menu pricing should be. You'll only get the benefit if, operationally, your portion sizes are in line with how you've costed them.
Now more than ever is a great time to take stock of your situation, and make a short- to medium-term plan. Although we don't have full control of our situation right now, doing a Strengths, Weaknesses, Opportunities and Threats (SWOT) analysis on your current situation should present enough ideas to identify new opportunities and threats, and confidently inform future actions. By sharing this process with your teams, you can gain more insights and garner more help and engagement.
Reopening your seating area may or may not be a viable option for you and deserves an analysis of projected sales and costs. A recent ABS static showed that only 40% of those surveyed would be confident to eat out when restrictions are initially eased, so there may still be a long way to go to get back to some degree of normality. For those that find it is a workable step, reopening presents an opportunity to slowly rebuild your team, integrate new procedures and generally start oiling the cogs again.
However you are setting up for the next phases, we suggest you use clear signage in store to direct customers on service procedures and good, ongoing communication via social and digital channels so that customers know what you're up to and what you're doing to look after their health and safety.
Rebuilding Community
As we touched on earlier, many businesses have adapted by expanding their range of products and services. Whatever new activities you have in place to secure revenue, we encourage you to have oversight on the true costs of these exercises. No doubt, for many customers there is a financial impact that will influence how often they opt for a plunger coffee at home over a latte. Although peoples' behaviours and daily rituals will have changed, there still is nothing quite like a beautiful barista-made coffee and a fresh, buttery croissant. The added value is the experience your team creates in every customer moment. Beautifully, this is the stuff that costs no extra to give and can stand you apart in the hearts and minds of your community. It's hard to fathom how much we have changed already. We've experienced a whole new way of working, connecting, dining, consuming coffee and spending our time. Pausing to acknowledge how far you've come may seem premature but it's the small wins we often forget to celebrate. Small milestones lead to bigger wins and the habit of conceiving and implementing small changes in your business forms healthy patterns for success in implementing larger objectives. One of the biggest things we've experienced in the past couple of months is the way the individuals in the cafe and coffee community have come together to support each other, share ideas and collaborate in an effort to maintain the survival of the industry as a whole. As a coffee roaster and your cafe-partner, we will continue to share information, ideas and insights and we invite you to reach out to us if you seek any specific help in taking the next steps for your cafe. You can also join our Bellissimo Coffee Community Group, where we'll share more specific and concise information as it happens as well as respond directly to any questions you may have.
---
Leave a comment
All comments are moderated before being published.